BUY TICKETS for NOV.4 IN CARNEGIE HALL, NEW YORK>>>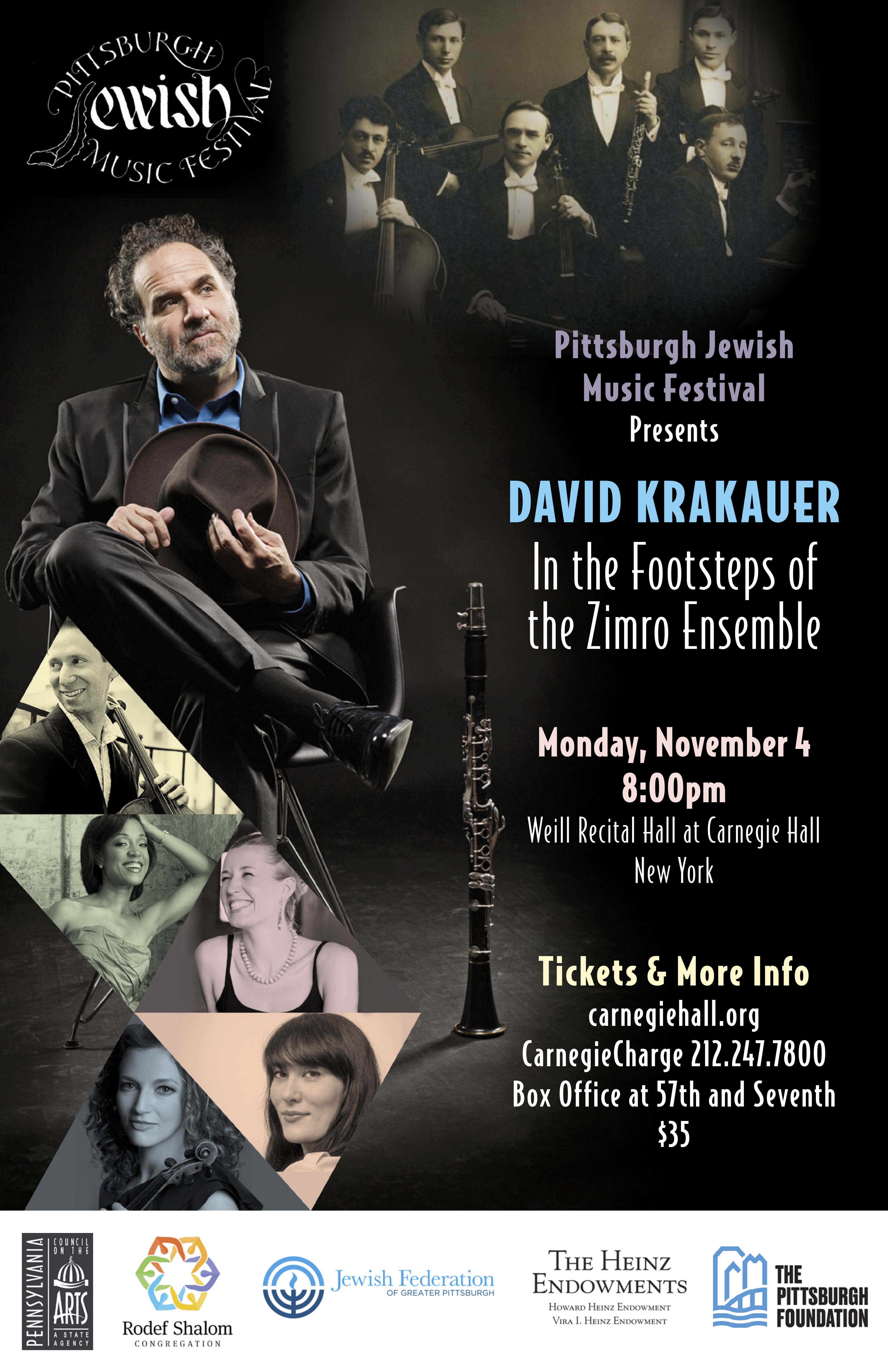 Featuring:
David Krakauer, clarinet
Kelly Hall-Tompkins, violin
Nurit Pacht, violin
Melissa Reardon, viola
Aron Zelkowicz, cello
Kathleen Tagg, piano
PROGRAM:
Alexander Krein: Jewish Sketches No.1 for clarinet and strings
Solomon Rosowsky: Fantastic Dance for piano trio
arr. Ljova: Klezmer selections
David Schiff: Divertimento from Gimpel the Fool
Prokofiev: Overture on Hebrew Themes, Op. 34
and works by Stutschewsky, Zeitlin, Kaplan, and Radzynski
The Pittsburgh Jewish Music Festival and world-renowned klezmer clarinetist David Krakauer presents a special centenary concert celebrating the Zimro Ensemble's historic global tour in 1919. The Zimro was a sextet of virtuoso musicians who championed early Jewish-themed classical music. Theirs is the story of the immigrant experience and international musical ambassadorship in the early 20th century.
Utilizing a clarinet, string quartet, and piano, this concert will recreate the program the Zimro sextet originally brought to life from their native St. Petersburg. "Hot off the press" at the time this music was first performed a century ago, this rich repertoire is all derived from authentic Eastern European Jewish folk sources and has rarely been heard in the intervening years.
David Krakauer is joined on stage by a starry lineup of musicians who will follow this Pittsburgh concert with an appearance in New York's Carnegie Hall. This repeated program will coincide with the anniversary of Zimro's sold-out Carnegie concert that concluded their tour through Siberia, the Far East, and America (where they were promoted by noted impresario Sol Hurok).

Monday, November 4 8:00pm
Weill Recital Hall, Carnegie Hall
881 7th Ave.
New York, NY 10019
Praised as 'one of the highest-quality concert series in town' by The Pittsburgh Tribune-Review, The Pittsburgh Jewish Music Festival was founded in 2004 by the cellist Aron Zelkowicz. In its eleven seasons, the Festival has programmed over 130 pieces of classical chamber and orchestral music inspired by Jewish traditions.