2010 Season - "Yiddish Songfest"
The 2010 Festival, "Yiddish Songfest!" explored the art of Yiddish song as conceived for the theater, the concert stage, and chamber music. "Hidden Yiddish Treasures" brought to light the recently discovered vocal jewels of Leo Zeitlin (1884-1930) as performed by mezzo Rachel Calloway, baritone Guenko Guechev, vocalist Daniella Rabbani, and PJMF's resident AGAM Ensemble. "100 Years of Jewish Theater Music" gave Pittsburghers the opportunity to trace the history of Yiddish theater with Zalmen Mlotek, the director of The National Theater Folksbiene. "Yiddish Meets Klezmer" showcased America's premiere Yiddish diva Adrienne Cooper in collaboration with jazz pianist Marilyn Lerner and klezmer violinist Alicia Svigals.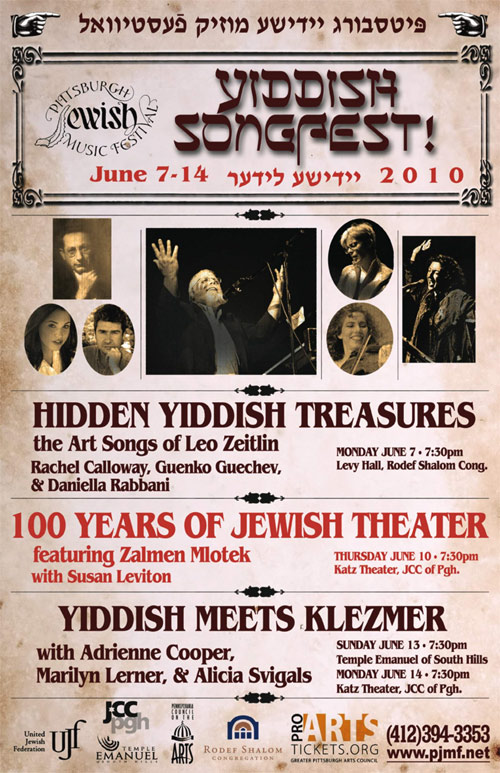 Live Audio Samples (excerpts):
Leo Zeitlin: Zog zhe, rebenyu
Rachel Calloway, mezzo-soprano
Guenko Guechev, baritone
Elisabeth Pridonoff, piano
Leo Zeitlin: Benk ikh yo, benk ikh nit?
Daniella Rabbani, speaker
Elisabeth Pridonoff, piano
Leo Zeitlin: Eili, Eili
Rachel Calloway, mezzo-soprano
AGAM Ensemble
Leo Zeitlin: Patsh, patsh, kikkhelek
Rachel Calloway, mezzo-soprano
Dennis O'Boyle, violin
Laura Motcholoav, violin
Marylene Gingras-Roy, viola
Aron Zelkowicz, cello
Luz Manriquez, piano