2004 Season - "A Vanished World"
"An Evening of Jewish Song"
April 19, 2004
Levy Hall, Rodef Shalom Congregation
with Mimi Lerner, mezzo-soprano
Aron Zelkowicz, cello
Luz Manriquez, piano and Rowna Sutin, soprano
This concert included Hebrew liturgical songs by Ben Steinberg, Yiddish art songs by Lazar Weiner, Yiddish folk songs, and cello pieces by Israeli composer Joachim Stutschewsky. The concert also featured a song cycle by the late Canadian composer Srul Irving Glick as the first of three works presented in the festival's commemoration of his seventieth year: "We Are Children Just the Same", a setting of poetry by teenage boys in the Terezin concentration camp.
(presented in conjunction with Music at Rodef Shalom)
"Klezmer Concertos"
April 27, 2004
Katz Performing Arts Center, JCC of Pittsburgh
Lucas Richman, conductor
Amitai Vardi, clarinet
Aron Zelkowicz, cello
Rueben Silver, narrator
Pittsburgh Jewish Music Festival Orchestra
The vanished world of Eastern European shtetl culture is represented with Elliot Finkel's setting of "The Fiddle", a story by Sholom Aleichem as narrated by actor Reuben Silver, and a cello concerto about the great Yiddish folk poet Mordecai Gebirtig by composer Joel Hoffman. This concert also featured music by Lucas Richman, Srul Irving Glick, and the world premiere of a suite from Hans Krása's children's opera "Brundibár" that was performed in the Terezin concentration camp.
"Chamber Music from the Old World"
May 5, 2004 8:00pm
Levy Hall, Rodef Shalom Congregation
Jennifer Orchard and Dennis O'Boyle, violins
Marylene Gingras-Roy and Isaias Zelkowicz, violas
Michael Lipman and Aron Zelkowicz, cellos
Jeffrey Turner, bass
Natasha Snitkovsky, piano
Ron Samuels, clarinet
Alberto Almarza, flute
Gretchen van Hoesen, harp
Klezmer music, images from photographer Roman Vishniac, and the literature of Isaac Bashevis Singer inspired this concert featuring different instrumental combinations of flute, clarinet, piano, harp, and strings. Featured works included a piece by noted Pittsburgh composer David Stock called "A Vanished World" in addition to works by Osvaldo Golijov, Srul Irving Glick, Joel Hoffman, and David Schiff.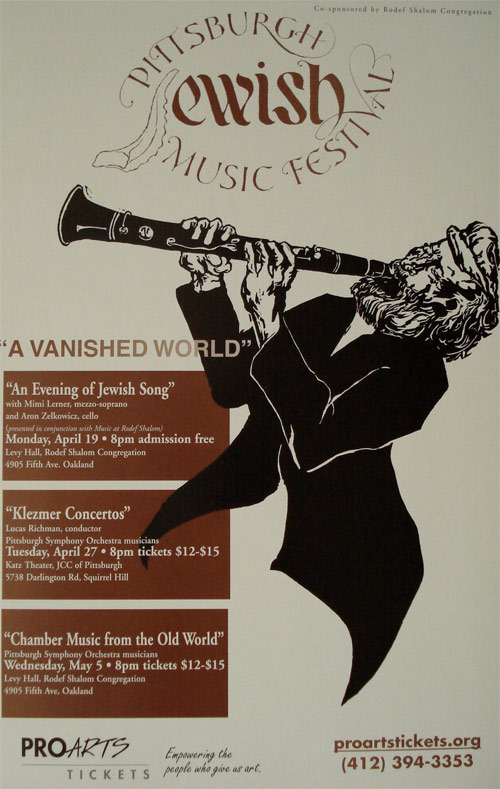 Live Audio Samples (excerpts):
Srul Irving Glick: Old Toronto Klezmer Suite mvt.4
Jennifer Orchard, violin
Marylene Gingras-Roy, viola
Michael Lipman, cello
Jeffrey Turner, bass
Natasha Snitkovsky, piano
Elliot Finkel: The Fiddle
Rueben Silver, narrator
Jennifer Ross, solo violin
Pittsburgh Jewish Music Festival Orchestra
Lucas Richman, conductor
Joel Hoffman: Self-Portrait with Gebirtig mvt.2
Aron Zelkowicz, cello
Pittsburgh Jewish Music Festival Orchestra
Lucas Richman, conductor
Lucas Richman: Overture for Israel
Pittsburgh Jewish Music Festival Orchestra
Lucas Richman, conductor